A Southern California Sassy Townhouse Tour
I get weak in the knees when I see a stunning townhouse. I'm always on the hunt for design ideas for our townhouse and, it looks like I've found the perfect inspiration!

Who lives here: A couple and their dog
Location: Pasadena, California
Designer: Charmean Neithart
Size: 1,603 square feet (149 square meters); 2 bedrooms, 2½ bathrooms
That's interesting: Their dining room chairs were made from a neighborhood tree that had fallen during a major windstorm in 2011.
If I could emulate every inch of this townhouse I would! Queue the Pasadena real estate listings. I have a penchant for townhouses as it is, so when I saw this beauty my heart went a flutter! Want some sassy townhouse inspiration? Come walk with me as we scroll down and take a private peek into this stunning California Townhouse.
As you walk in, you are greeted by a totally chic entryway filled with pops color as well as a colorful custom pagoda-style pendant light foreshadows some of the more transitional and eclectic touches seen throughout the house. You can see how they used persimmon to spice things up.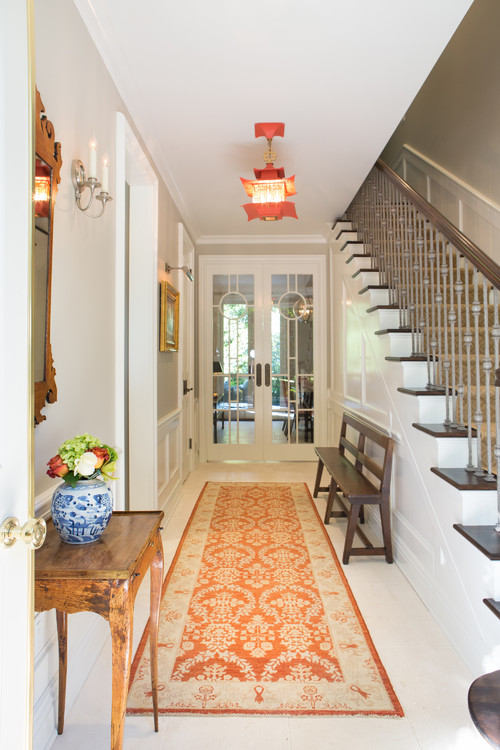 Wall paint: Revere Pewter, Benjamin Moore; staircase railing pattern and paint: custom, Ken Moffatt; pagoda lantern: Chameleon Lighting, via Thomas Lavin
Below, we see how persimmon found it's way into this simple yet chic dining room.
Some of the details you cannot see are the radiant heating in the quiet flooring, the soundproofing, the organic insulation composed of shredded blue jeans and the hand-milled moldings.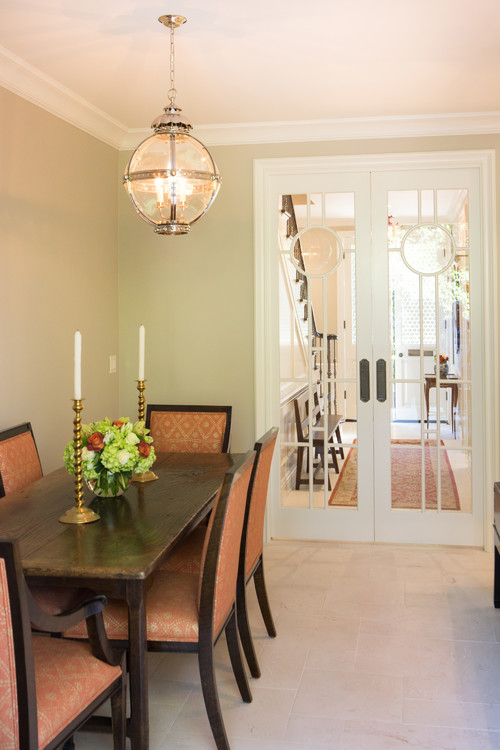 Pops of persimmon are joined together in a wedding of soothing color and romance in the living area.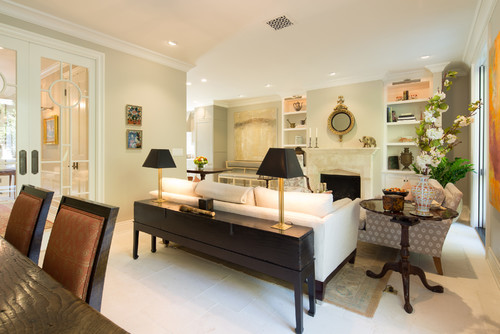 A central theme runs throughout this sassy townhouse delivering quality workmanship and a flair for the dramatic in the decor. Custom craftsmanship is what makes a room really special and unique!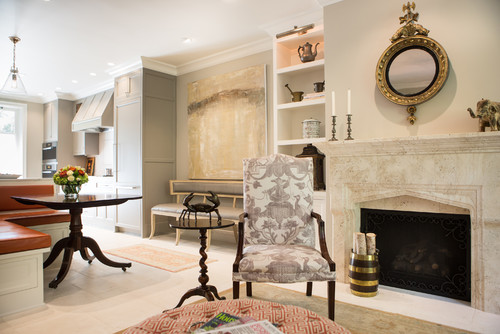 The subtle worldliness of the home continues with vegetable-dyed Persian rugs grounding most of the rooms. Vegetable-dyed rugs have natural colors. They are very earthy and look like watercolors, the designer says.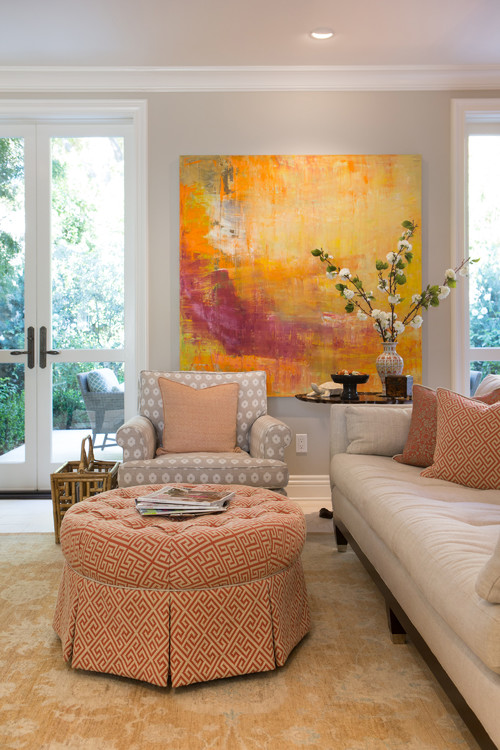 French doors lead to a lush and private backyard space. A beautiful limestone fountain serves as a calming focal point.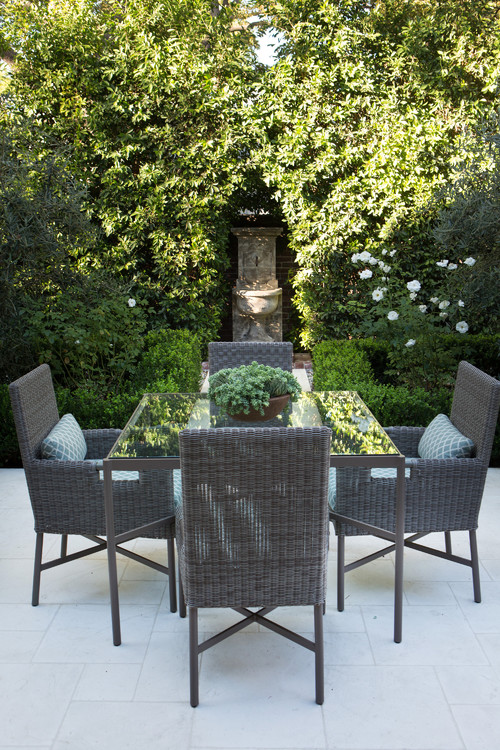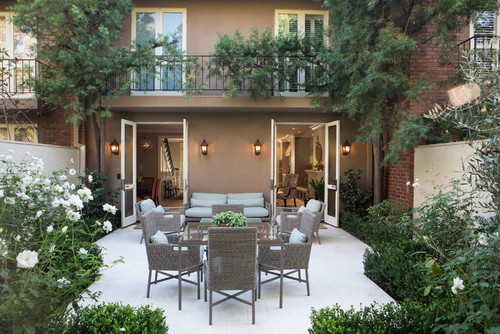 A kitchen peninsula provides a spot for prepping and serving. I just adore how using color ties this townhouse together.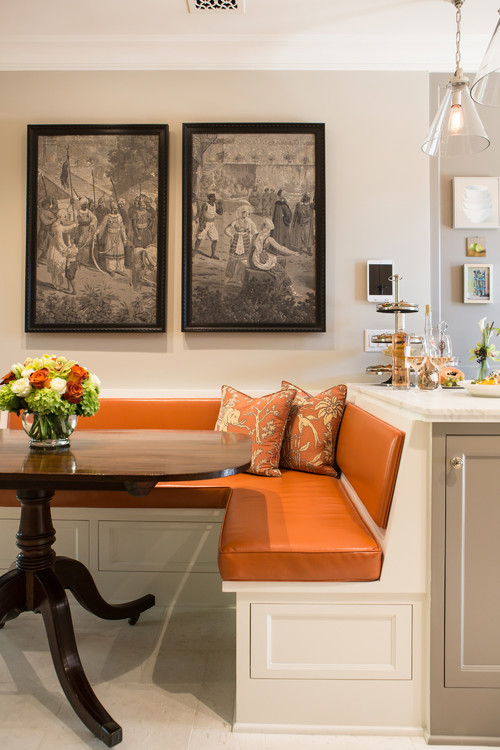 When they spotted a vintage 19th-century butcher block table they knew they'd found their island.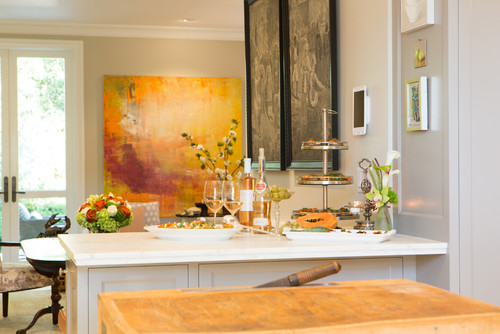 The butcher block table is a great contrast to the elegant cabinets and Carrara marble countertops. The neutral tones in the kitchen area seem to create a calm and relaxing environment for the daily rush of kitchen drama.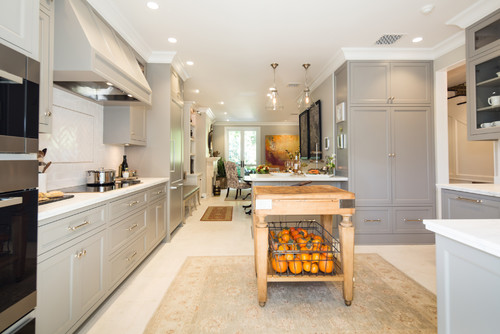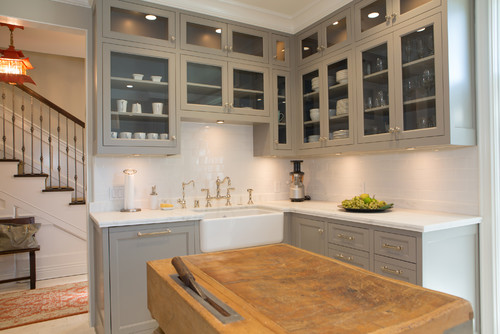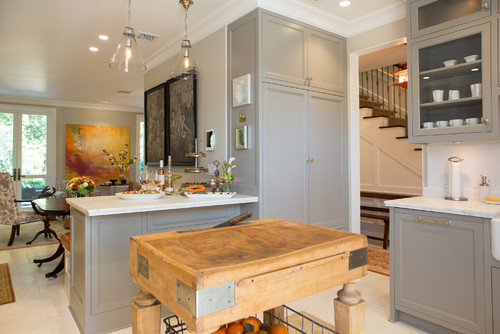 Not using window treatments seems like a scary idea but, they used shutters in the bedrooms for privacy and translucent glass in the bathrooms where needed. Brilliant outcome!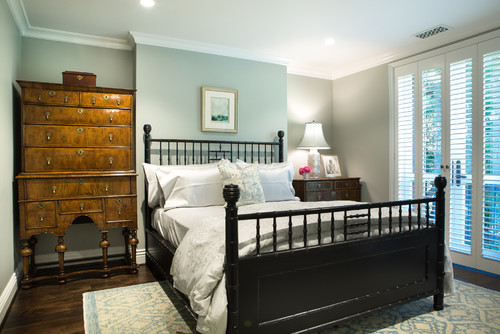 Here's a great tip from the designer!
Do whatever you want in a powder room. A closed-door can keep it from distracting from the rest of your home's design. My clients were a little worried this would be too busy, but I told them, That's the point! Neithart says.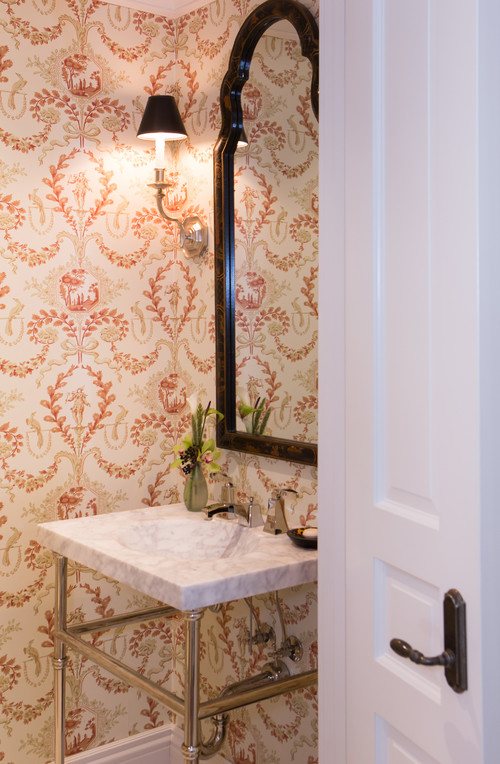 The bathrooms are just as chic as the rest of the house.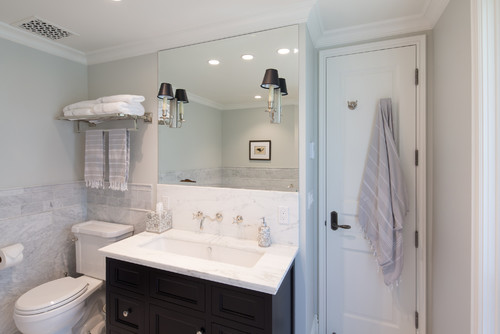 Calming marble and clear glass help make the space feel larger than it is.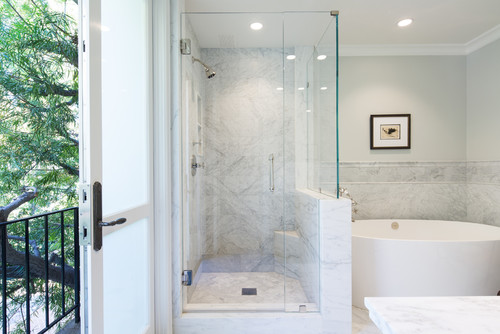 OK, a glass of wine and some suds please and thank you!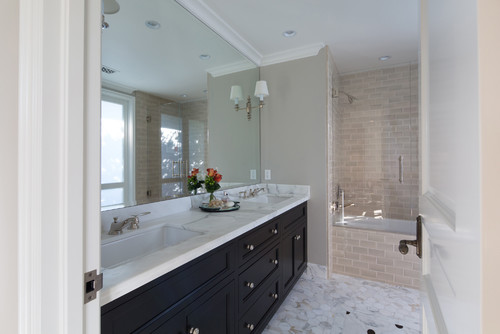 Yes, I can get used to this – me, my desk, a computer – and that view!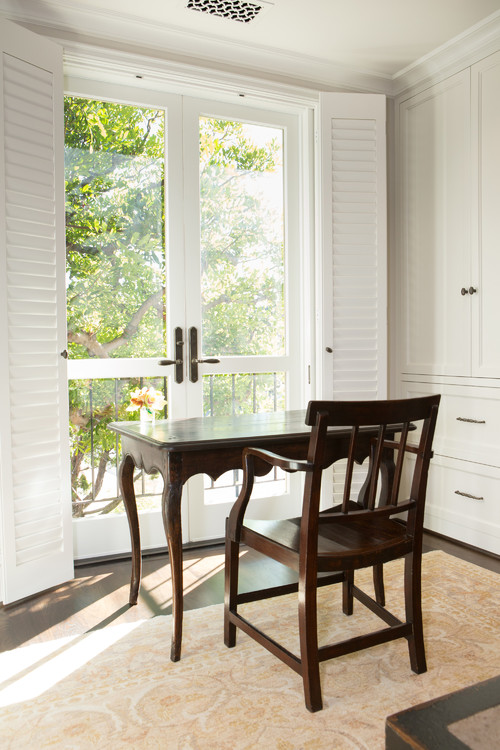 The sofa is a sleeper for guests. The reproduction Chinese table has a stone top and adds another transitional touch. Neithart composed a small gallery wall of paintings the homeowners purchased in Carmel.
The tall cabinets serve as extra closets for the couple, who have only one modest closet in the master suite.
OK, time to awaken from this dream now. I hope you were able to get as inspired as I did. I've got my bulleted list of to do's and a plan for some upcoming changes to our townhouse.
And as always, thanks so much for visiting my site and if you like this post – A Southern California Sassy Townhouse Tour – please subscribe via email below and never miss a post again.